Touring Manipur : BISHNUPUR - Geography, History, Tourism, 8 Best Tourisrt Destinations You Cannot Miss Out
A place which you should visit during your trip to Bishnupur in Manipur is Keibul Lamjao National Park. It is the last natural habitat of the sangai, which is fondly called the dancing deer of the state.
Front View of Gopinath Temple, Bishnupur
Bishnupur District with its headquarter at Bishnupur (27 Km. from Imphal) was opened on 25-05-1983. Stretching between 93.43 degree E and 93.53 degree E Longitudes and 24.18 degree N and 24.44 degree N Latitudes the total geographical area of the District is 530 Sq. Km. It is bounded on the North by Imphal West District, on the South by Churachandpur District, on the East by Imphal and Thoubal Districts.
Bishnupur town is the administrative headquarters of the district. Other major towns in this district are: Nambol, Moirang, Ningthoukhong, and Kumbi. Major village in this district are Nachou, Ngaikhong Khullen, Toubul, and Khoijuman Khullen.
An Insight into Bishnupur Tourism
Bishnupur is one of the smallest districts in Manipur, but what it lacks in size, it more than makes up in its natural beauty, historical and cultural attractions. A tourist looking to have a peaceful but quality time will find it a great place to be in. It is extremely popular among Japanese tourists, and particularly those that are the descendants of Japanese armed forces. There is a famous Vishnu Temple too, which reminds visitors of its rich past. There is a waterfall, a lake, hills, and a national park, all of which make for some exciting sightseeing and exploration.
While travelling to Bishnupur, you can observe the lifestyle of the people, most of whom are engaged in agriculture, which is their primary source of livelihood. It also celebrates several festivals throughout the year, one of the most famous of which is Lai Haraoba. Celebrated in May, it is dedicated to Lord Thangjing, an ancient deity which predates Hinduism. Planning a visit in April would give you an opportunity to be a part of the Cheiraoba festival.
Interestingly, it coincides with the Meitei New Year. Some of the temples which you can visit in Bishnupur are Ibudhou Thangjing, Konung Lairembi and Ibudhou Pakhangba Khubam. A particularly beautiful sight is that of the Sangai, which is a brow antlered deer found in the southern parts of the Loktak Lake. It is the largest freshwater lake in eastern India and is home to floating marshes which are locally called phumdi. Once there, you can also observe the lifestyle of the villagers who live in close proximity to the lake.
Another place which you should visit during your trip to Bishnupur in Manipur is Keibul Lamjao National Park. It is the last natural habitat of the sangai, which is fondly called the dancing deer of the state. Other than sangai, the park is home to other animals like hog deer, otter, water fowls and migratory birds. There are two watch towers which offer some great views of the wildlife.
Bishnupur is derived its name from an ancient Vishnu temple located in the town which was established in 15th Century. Bishunupur is the administrative headquarters of Bishnupur District.
In ancient times, Tongjei Maril (Meitei)(literally 'tubehole') through Bishnupur was the sole road linking Manipur with the rest of India. Bishnupur was one of the sites of the World War II where fierce fightings between the Allied Forces and the Japanese Forces took place. The British war hero, Major-General Orde Wingate, the founder of the Chindits force, died in a plane crash near Bishnupur while flying back from Chindit-held bases in Burma. Many descendants of Japanese armed forces who died here during the War visit Bishnupur to pay homage to their departed ancestors.
8 best tourist destinations in Bishnupur :
Loukoipat
Loukoipat, a small natural lake sandwiched between two knolls is a picturesque tourist spot in Bishnupur. Here, the beauty of hills converges with the beauty of lake. The panoramic view of the Manipur valley from the higher slopes of Loukoipat tourist lodge is sure to please the viewers' senses. Loukoipat is further being developed with an ecological park.
Loktak Lake
Loktak Lake, one of the largest freshwater lakes in the entire world, is situated at Manipur. Loktak Lake has been the primary source of sustenance for over 55 villages and hamlets since time immemorial. The lake has provided these people with food, water, occupation, shelter and above all sustenance. The lake is home to local fishermen and other folks alike.
It is a zone of great biodiversity but unfortunately increased pressure by humans has led to a severe depletion of the resources of the lake which is taking its toll on the flora and fauna in the area. Loktak also houses the world's only floating national park.
When and how to go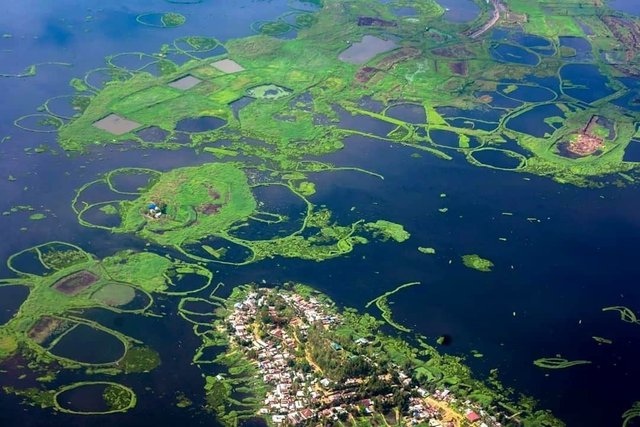 This valley gets a high concentration of rainfall throughout the year barring the two dry months of February and March. Hence these two months are ideal for you to plan a trip to Loktak Lake as the monsoon is going to force you to stay indoors otherwise. On top of that, the months of February and March also provide stable temperatures while at other times the massive temperature variations may prompt you to abandon all plans and simply stay indoors.
Loktak Lake is situated about 48 km away from Imphal. To reach Loktak, you must first take a taxi or a cab from Imphal for Moirang which is 30 km away and costs INR 50 per head. Taxis are found at the stand near Jiribam, Imphal market road. There is an intersection nearby which has an eminent portion called the Ima Keithel Women's Market. The taxi stand is a stone's throw from here. From Moirang one has to go to Thanga which is actually a cluster of small villages situated on the peninsula of the Loktak Lake. The taxi fare is INR 10 per head. From here, the lake can be easily accessed.
Reasons why Loktak should be your next holiday destination
Sendra Island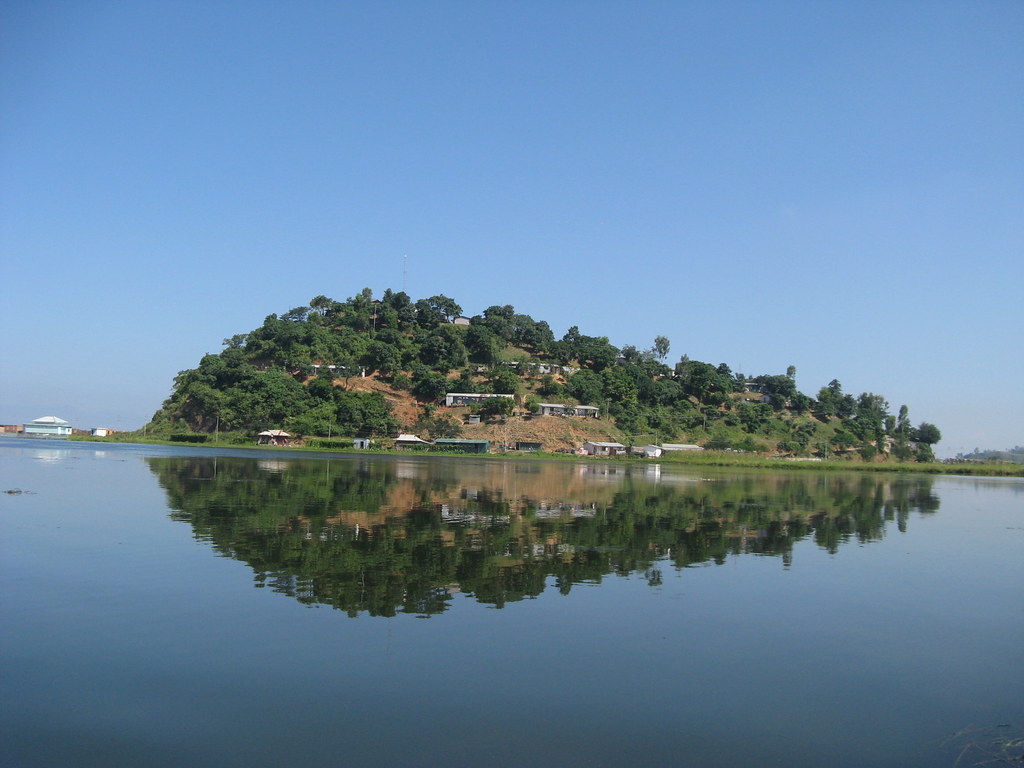 Sendra is the most elevated of a string of islands in Loktak Lake linked to Moirang village by road causeways. Sendra has wonderful panoramas that you can combine with good food and coffee at Sangai Café and/or a night at the comfortable six-room Sendra Park hotel.
Loktak Lake and Sendra Island are examples of treasures of a dynamic ecosystem and need protection and preservation from the administration. Human encroachment causes shrinkage of the lake in the recent past.
Sendra Park and Resort
It is 30 km away from Imphal. Nestled in the hills of Sendra the Cottages provide comfortable accommodation that overlooks a gorgeous vista of the Loktak Lake. As the resort is being surrounded by the lake, a visual treat of the picturesque landscape of the boathouses and fishermen at work throwing their nets in the water could be seen. Besides sunrise and sunset at the resort is one of the major attractions. It is a place to take a break from the humdrum of the city life.
Sendra Park & Resort By The Classic is a 1-star property set in Moirāng. Featuring a 24-hour front desk, this property also provides guests with a restaurant.A continental breakfast is served every morning at the property.
Imphal International Airport is 30 km away.
Vishnu Temple
Vishnu Temple at Bishnupur is a 15th-century temple dedicated to Lord Vishnu. King Kyamba of Manipur along with Chaopha Khe Khomba, the king of Pong, conquered Kyang, a Shan kingdom in the Kabaw Valley of present Myanmar. Jubilant at the victory, an idol of Lord Vishnu was given by the Pong king to King Kyamba. King Kyamba started worshipping the idol at Lumlangdong which then came to be known as Bishnupur i.e. abode of Vishnu. Subsequently, he built a Vishnu Temple of brick at Bishnupur which has now become a protected historical monument under the Ministry of H.R.D (Archeology), Government of India. It is now standing as a symbol of the remains of ancient times. And the statue got by Kyamba from the Pong king is very important since it gives us the idea of the religious beliefs of those days and the very name that it had given.
During the rule of Kyamba the worship of Vishnu began in Manipur again. A little image of Lord Vishnu was presented by the King of Pong when he concluded a treaty with the king of Manipur in 1470 AD. Kyamba built a brick temple at Bishnupur and installed the image there. In this way the worship of Lord Vishnu began in Manipur again. But "in spite of regular worship of Vishnu Kyamba was not initiated to Vaishnavism by a preceptor."
Ningthoukhong
Ningthoukhong, Manipur is a perfect destination for a great time with your dear ones. Enjoy the attractions of this popular tourist spot. With so much to lure your senses and offer you recreation at its best, get drenched in the spirit of adventure that you get to explore at ningthoukhong, Manipur. Enjoy together all the points of popular interests and bring back several memorable moments. ningthoukhong, Manipur is not just the place for sightseeing, but it also enables you to steal a self-indulgent moment for yourself as well. So, check out the ningthoukhong tourist spot for all the attractions that is on offer and visit this spot on weekends for a rejuvenating time. World standards, extraordinary architecture, innovative layouts, and well-thought execution make place a highly coveted point of tourist interest. Do not forget to carry your camera and capture special moments. ningthoukhong, Manipur is the sure way to refresh and relax after a busy weekday. Explore interesting themes, fabulous designs, colorful landscapes, amusing characters, ambient music, props and merchandise available in nearby stores- all at one place. ningthoukhong, Manipur is the best way to have a memorable time with kids and family.
Ningthoukhong is a Municipal Council city in district of Bishnupur, Manipur. The Ningthoukhong city is divided into 14 wards for which elections are held every 5 years. The Ningthoukhong Municipal Council has population of 13,078 of which 6,415 are males while 6,663 are females as per report released by Census India 2011.

Population of Children with age of 0-6 is 1642 which is 12.56 % of total population of Ningthoukhong (MCl). In Ningthoukhong Municipal Council, Female Sex Ratio is of 1039 against state average of 985. Moreover Child Sex Ratio in Ningthoukhong is around 909 compared to Manipur state average of 930. Literacy rate of Ningthoukhong city is 77.13 % higher than state average of 76.94 %. In Ningthoukhong, Male literacy is around 86.46 % while female literacy rate is 68.32 %.

Ningthoukhong Municipal Council has total administration over 2,780 houses to which it supplies basic amenities like water and sewerage. It is also authorize to build roads within Municipal Council limits and impose taxes on properties coming under its jurisdiction.
Moirang
Moirang is about 45 kms. from Imphal and is a very sacred place for the Manipuri people. It holds an ancient temple of the pre-Hindu deity, Lord Thangjing. The flag of the Indian National Army was first hoisted here on April 14, 1944. There is also an Indian National Army Museum depicting their struggle for India's independence. The museum is open from 8 A.M. to 6 P.M. Traditional "Moirang Lai Haraoba" is celebrated in the month of May every year from the olden days. During the festival, both men and women in hundreds dance and sing in honour of Thangjing. Everyone in gorgeous traditional costumes, sing and dance in honour of the Lord here. It was from the village of Moirang, too, that the graceful Khamba-Thoibi dance originated traditionally celebrated in May. Moirang offers I.N.A. memorial with the bronze statue of Netaji Subhas Chandra Bose. There is an INA Museum exhibiting letters, photographs, badges of ranks and other articles associated with this movement.
The Indian National Army Memorial and Museum, Moirang
The Indian National Army Memorial and Museum at Moirang is a replica of the INA War Memorial originally built in Singapore and is famous for housing an imposing statue of Subhash Chandra Bose. The museum displays a fine collection of arms and ammunition, bayonets, helmets and other articles used by the soldiers of the Indian National Army. The museum also displays books, documents, manuscripts and periodicals that depict India's history and its freedom struggle. The memorial holds immense historical significance as this was the place where Netaji Subhash Chandra Bose hoisted the Indian tricolour as the Commander-in-Chief of the Indian National Army, for the first time during the Second World War. Thousands of soldiers of the Indian National Army along with the Japanese imperial army died in Manipur during the Battle of Imphal. They managed to free an area of 1,500 sq mile in the Manipur valley and administered the liberated areas for three months while being headquartered at Moirang. The memorial has been built in the memory of these gallant soldiers and makes for an interesting visit.
Ibudhou Thangjing Temple
Ibudhou Thangjing temple is located in Moirang, one of the prominent cities of Bishnupur district in Manipur. The temple is dedicated to Ibudhou Thangjing, one of the most important traditional deities of the Manipuris. It is believed that Lord Thangjing protects Moirang from evil. The Ibudhou Thangjing temple adorns itself with lights and glitters every year during the Lai Haroba festival. The Lai Haroba festival is celebrated during the month of May. It is a traditional festival paying respect to the pre-Hindu times deity Ibudhou Thangjing.


Keibul Lamjao National Park
Afloat on the waters of the Loktak Lake in Manipur, the Keibul Lamjao National Park is the world's only floating wildlife sanctuary. Known for the patches and rings of biomass called phumdis, the park is a wetland ecosystem. A phumdi is a carpet of dead and decaying flora, which floats on the surface of the lake—about a fifth of it is above the surface. Tall reeds and grasses grow on these phumdis, often reaching up to 15ft in height.
The Keibul Lamjao National Park is also the world's sole habitat for the sangai, or brow-antlered deer, in the wild. It's the state animal of Manipur. The population of the sangais are in danger of losing their habitat as the phumdis are no longer able to carry their weight. This is due to a multitude of factors—invasive plant species have taken over the vegetation in the phumdis, farming practices are encroaching on the park territory, natural drainage of the old vegetation has been hampered, as well as poaching and illegal fishing.