Samsung Galaxy F62 Detailed Reviews, F62 Gears Up To Deliver A Stellar Performance With Its Flagship 7nm Exynos 9825 And Massive 7,000mAh Battery
Samsung Galaxy F62 promises to be in a league of its own in terms of multi-tasking and gaming performance. Let's give you a closer look at what you can expect from the device.
Samsung Galaxy F62
The Samsung Galaxy F62 looks poised to shake up the Indian smartphone market with its game-changing features. The latest premium mid-ranger from the company stands tall amidst the competition, thanks in no small part to its flagship 7nm Exynos 9825 chipset, and its whopping 7,000mAh battery. Rest assured, the Samsung Galaxy F62 promises to be in a league of its own in terms of multi-tasking and gaming performance. Let's give you a closer look at what you can expect from the device.
Blazing fast performance
Let's kick things off by talking about the Samsung Galaxy F62's core specifications. Here, the smartphone employs the company's flagship 7nm Exynos 9825 processor. Now, in case you've been living under a rock, the flagship 7nm Exynos 9825 SoC debuted with Samsung flagships in the past and was the world's first chipset to be manufactured using the 7nm EUV process. Correspondingly, the chipset's 7nm architecture gave a tremendous boost to its processing power, while also significantly increasing its battery efficiency. Unsurprisingly, the flagship 7nm Exynos 9825 SoC performs like a true-blue flagship chipset and completely obliterates the competition. To give you a better picture, in AnTuTu 8, the flagship SoC has notched a total score of over 4,52,000 points, which is substantially higher than the 3,12,300 score of the competing Snapdragon 765G chipset. In fact, the flagship 7nm Exynos 9825 showed 28 percent faster processing and 85 percent faster gaming performance than its closest competitor.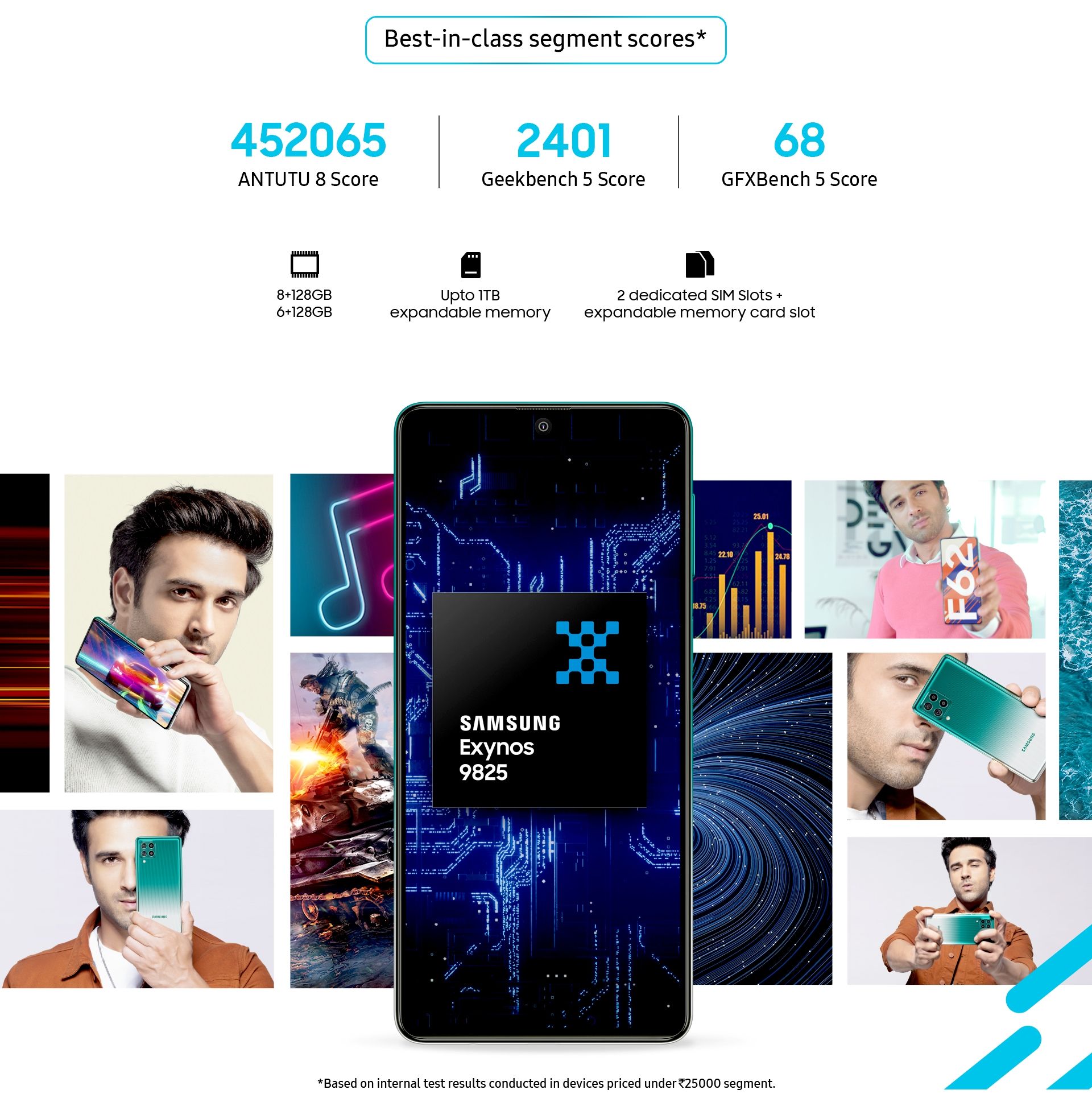 In a similar fashion, in Geekbench 5, the flagship 7nm Exynos 9825 outputted a single-core score of 770 and a multi-core score of 2,401 points, leaving its immediate contender behind which secured 585 and 1,170 points respectively for the single-core and multi-core tests. If you're curious about the math, then the flagship 7nm Exynos 9825 flagship SoC put forth 32 percent higher single-core performance and 36 percent higher multi-core performance when compared to the competition. It goes without saying that the Samsung Galaxy F62 will dish out unreal compute for your daily operations, no matter how much you multi-task or how resource-hungry your apps are.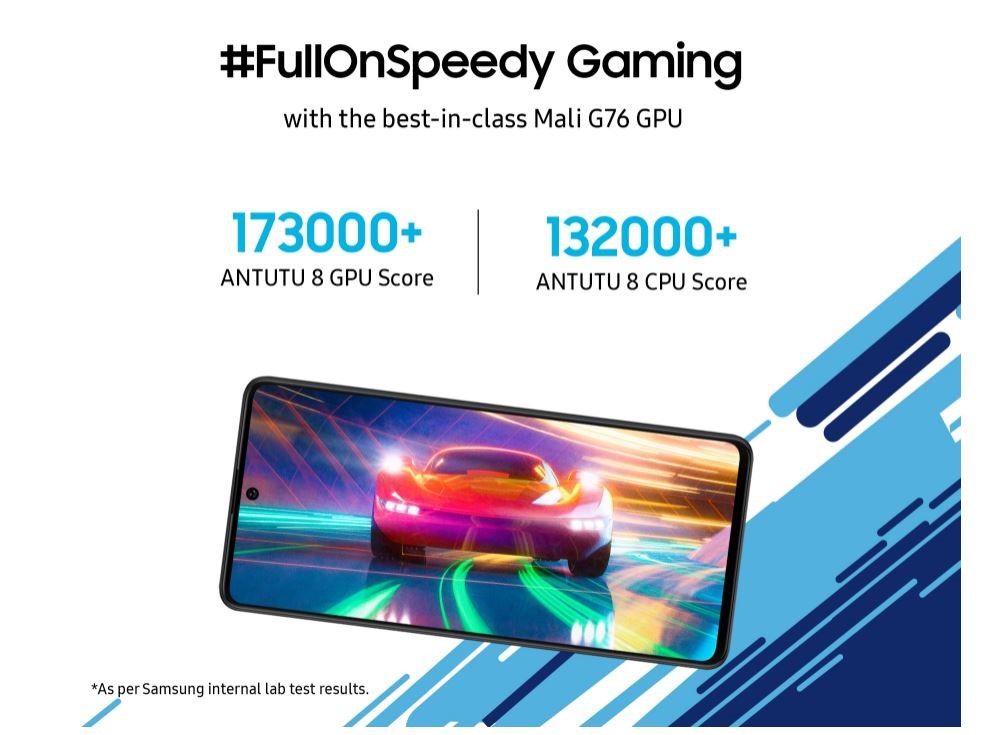 And, that's not all as the Samsung Galaxy F62 also touts superior gaming performance when compared to similarly priced devices. How, you might be wondering? Well, the Mali G76 MP12 GPU onboard the flagship 7nm Exynos 9825 chipset yielded 68 points against its closest competition, which tantamount to a 31 percent advantage. As a result, high-end online games will run buttery-smooth on the all-new Samsung Galaxy F62 smartphone.
Unending battery backup
What good is a high-performance phone if it dies in the middle of the day, correct? To that note, the Samsung Galaxy F62 is all set to be the first-ever phone on Flipkart to come equipped with a 7,000mAh battery, the best in the segment. This power pack, along with the highly efficient flagship 7nm Exynos 9825 chipset, will easily be able to provide 2-day battery life off a single charge. In fact, with moderate usage, users could also stretch it to three days, ensuring buyers opting for the handset never run into any battery-anxiety. Moreover, Samsung has also furnished the device with 25-watt fast charging support, allowing you to juice up its battery in a noticeably short amount of time.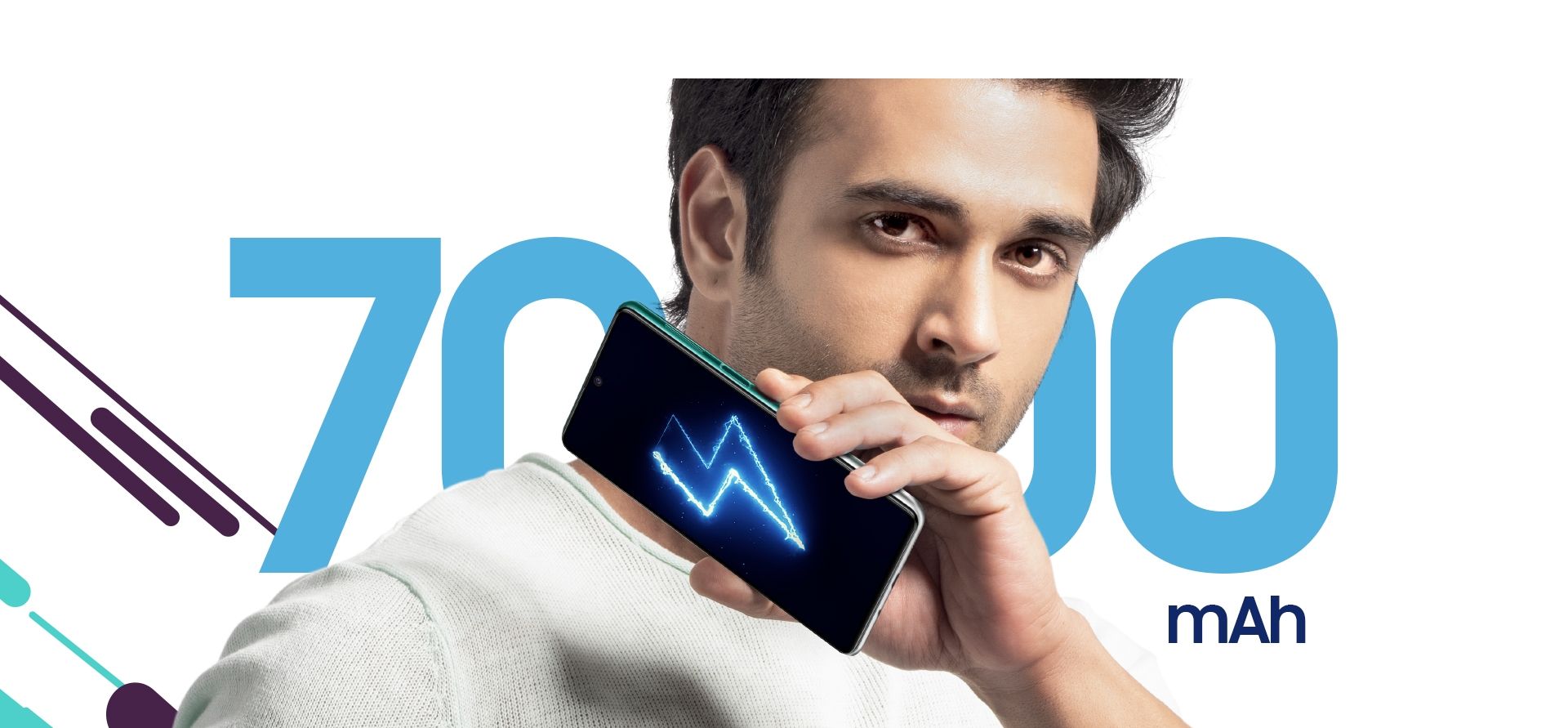 Other highlights
Samsung has also revealed that the Galaxy F62 will ship with a Super AMOLED Plus panel with an Infinity-O notch for absolute immersion. There are numerous advantages to having a super AMOLED display over an LCD panel and you can expect way better contrast levels, more vivid colors, and much darker blacks with the Samsung Galaxy F62's screen. Furthermore, it has also been revealed that the phone will grab a 64MP quad-camera setup, offering enough versatility to capture your scenes in the best way possible. So, be it clicking beautiful landscapes with the 12MP Ultra-wide angle sensor, closeups with the 5MP Macro lens or using the Single Take feature which can give up to 14 different outputs with the tap of a button, the Samsung Galaxy F62 can do it all.
Samsung is not stopping there either and the company has furnished the Samsung Galaxy F62 with Samsung Pay as well. Correspondingly, buyers opting for the handset will be able to conveniently and securely pay with just a tap of their cards. Do note that the device supports NFC-based transactions only. And, since we're on the subject of security and privacy, you should know that the Samsung Galaxy F62 also comes loaded with Knox Security, marking yet another first for the F-series along with a speedy fingerprint scanner and facial recognition too.
By its mere appearance ahead if its official launch on February 15 at 12 noon, the Samsung Galaxy F62 has created waves in the industry. It will be the only device in its class with the flagship 7nm Exynos 9825 chipset and a 7,000mAh battery inside it. And, as power-packed as the phone is on the inside, it's just as stunning on the outside too and ships in three attractive shades of Laser Green, Laser Blue, and Laser Grey. The phone will be released via Flipkart,
Reliance Digital, and Samsung.com on the 22nd of February starting at 12 noon, so make sure to rush to the aforementioned platforms and register to get notified as and when the phone goes on sale. The icing on the cake is that the company is making the phone available for just Rs 23999, however, ICICI users can also avail cashback bonus worth Rs 2500 when they buy the phone. Speaking of savings, the handset is also eligible for Flipkart's Smart Upgrade Program (FSUP), allowing buyers to avail the device at 70% of its actual price! So, if you wish to upgrade to a newer Galaxy series smartphone a year down the line, you can do so by simply returning the product! Or, you can pay the remaining 30% fees and retain the Samsung Galaxy F62 too. All said and done, the Samsung Galaxy F62 brings with it a slew of benefits so the only real question is – which colour will you get the smartphone in?
By 91mobiles