MICAN Hails Manipur CM, N Biren Singh saying "In Manipur, people experience a rare and different style of leadership"
Under his hardships COVID-19 Case in Manipur has been flattened and almost brought the status to zero active case - Athouba Meitei
Chief Minister, N Biren Singh
Meetei International Civic Action Network (MICAN) gi Chief Co-rdinator, Athouba Meiteina thadorakpa cherol amada ngasi state asida COVID-19 gi case hanthana thengnaribasi Shri N Biren Singh na luchingba leingak asina hiram asida matam chana thbak touhoubagi maheini haina apenba fongdorakli. Ngallingei da International border shield touhouba, rapid oina COVID-19 sandorakpa yabagi akiba leibana Manipurda leiriba educational institution sing, cinema halls, theatres, harao kumhei, housie, lottery, atei meeyam ka henna punba thabak thouramsing thinghouba, inter-state amadi inter-district loinana mathang tarakpada passenger transport system matam chana suspend touhouba asimak khwaidagi maruoiba khongthangsingni. Loinana mapandagi changlakpan meeoising matam chana quarantine touhouba, lockdown manungda curfew thamduna meeyam pundanaba hotnaba, govt ki office singda attendance hanthahanduna social distancing encourage touba asimakna laichat asi contain tounaba hotnabada achouba mateng oiri. Natlamdrabadi anaba masing hengatlakpa matamda Chinagumna ventilator amadi medical equipment marang kaidaba lamdam asidadi khudongchadaba kaya mayoknagani amadi fatality gi chang wangani haibasimadi pumnamakna khangnaraba wafamni.
Makha tarakpada CM na centre da wari sannaduna JNIMS ta matam chana state asigi ahanba authorized COVID-19 Testing Centre ama hangdokhiba loinana state asigi oina ahanba 24x7 COVID-19 Helpline hangdoktuna meeyamna pamba information khudingmak fangba ngamhanba asimak lamdam asigi meeyamgi oina laibak fabani masimak natlamdrabadi hougatlakpada khudongchadaba kaya mayoknaramba yai.
Loinana Manipurgi CM, N Biren Singh dagi khwaidagi tamjaningai oibasi mathou tarakpa matamda meeyamga openda wa tathok tasin touba yaba asini. CM Secretariat ta COVID-19 gi Common Control Room hangdoktuna masamakna tumda hiptana monitor touba, Matam pumnamakta meeyamga leiminnaduna meeyamna khourangna ngainariba COVID-19 gi test report sing, khudak khudakki leingakki order sing social media da openly share toubiduna meeyam punna khangminnanaba sinbiba, social media gi khuthangda lakpa meeyaimgi complaint sing, suggestion sing tabiduna paokhum pibiba, mathou tarakpa leingakna paikhatliba amadi paikhatlakkadaba thabak thouram kaya media da address touduna khanghanbiba asimak lamdam asigi meeyamgi oina laibak fabani amadi masimakna meeyamna panic oiba yaba fibam kaya control touwi. Tengbang.in kouba website ama hangdoktuna Manipurgi manada stranded oiduna leiriba Manipurising khangdoktuna khudak khudakki oina mateng tounaba hotnabiba asimaksu yamnamak maruoiba khongthang amani haina Athoubana makha tarakli.
"Nongmasu eina lockdown manungda organisation gi thabak amakhak hallakpagi lambida oil pump amada mee krik-krik innana Q leplamba thengnakhi, madu ubada ei thamoi yam sokkhi, lengak amadi meeoi kayana COVID-19 laichat sandokpa thingnaba haiduna tumda hiptana hotnaringei tallaksida meeyamse kayada gyan takhidrabano khanna khanna eisu khara khara lapthoknaba haiba houre...matamduda khanghoudana Tamo CM thabak ama chatpadi malli, ado lambi chatpaduda meeyamdo uramale yam pakhatna khudaktuda garidagi kumtharaktuna...Q lepliba meeoisingduda nungsina cheikhi amadi fana kuina leiduna security in charge su kousallaga instruction kaya piramlaga chatkhi; ei numittuda Tamo N Biren gumba iramdamgi meeoisingi yam khanjaba meeoi ama CM oina leibagi chaothokchabado yam faokhi" haina Athoubana palli. Masimakna matam kayagi matungda meeyamga openda wa tathok-tasin touba yaba meeyamgi oiba CM amadi Manipurda fangle haiba yai.
Vimi Ningombam, first COVID-19 patient of Manipur after discharged from JNIMS
Makha tarakpada houkhiba April 15 da Ministry of Home Affairs, Govt of India na thokhiba Order No. 40-3/2020-DM-I(A) dated 15th April,2020 na piriba Guideline asigi provision singda April 21 dagi allow touba yariba activities/condition sing asi Manipur dadi khitang khanthaba mathou tari. Manipur asidi pikcharabasu mee yamna kungna taba amadi COVID-19 confirned case 95 henkhraba Myanmar ga km 398 henna boundary ama share touriba maramna khara henna strict oifam thokpra khalli. MHA gi Guidelinedasu Clause 4 da palli madudi :
4. Strict enforcement of the lockdown guidelines
i. State/UT Government shall not dilute these guidelines issued under the Disaster Management act, 2005 in any manner and shall strictly enforce the same
ii. State/UT Governments may, however, impose stricter measures than these guidelines as per requirement of the local areas
Also read Lockdown 2.0 : New Rules & Guidelines
Maram asina Manipurdadi khara henna strict oisanba kaidabra khalli. Manipurgi oinadi Grocery amadi Vegetable market asi week amada 3 lak hanglabadi problem leiroi khalli tobatabu grocery shop singda pot suna amadi marang kaina leingakki areppa mamalda fanghanba mathou tari. Houjik houjik marketta MRP thaba potlam kaya MRP dagi hegatna yonnari hairurabasu loufamdagi hellakpani upai leite hekta hai. Amaromda cheng yenba yendaba tokhraga peisa leirasu market ta cheng leiba fangdabasidi yamna laibak thibani. Market ngaihaktang hangbada meeoi kaya potyonfamdagi cheng wanba lakpada fangdana chatkhibada tasengna nungaitaba faowi. Peisa leirasu leiba fanghandabasidi laibak thibani. Kari charamgadabano khanbada thamoi sok e. Maram aduna meeyambu nungsibirabadi Policy ama semduna Manipurisinggi watpa yadraba cheng faobadi market ta marang kaina fangnaba sinba fei.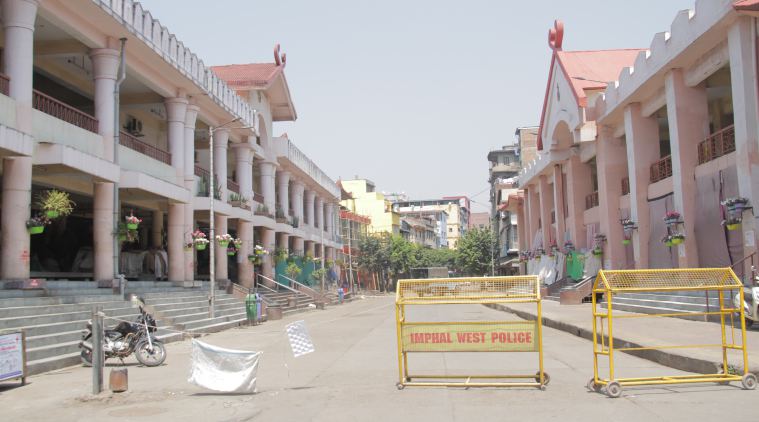 Ima Keithel under lockdown
Loinana hujikan asi PHED gi makhada leiba Water Supply Plant ayamba eeshing pidabana local private water tank singdagi louraga thakna chanari adubu Diesel fangdabana maram oiduna black tagi tangna leibana eesihingi mamal atiya pakna wangkhre masina meeyamda awabada awaba hapchalle. Leingakna asigumba essential service touriba kangbuda chang naina thao fanghannaba sinbiyu. Awatpabu leitrabadi gyan ka henna tadaba meeoi khra nattana kanasu mapan thoklakloi khalli. COVID-19 laichat houjiksu tamba ngamdri control tounaba hotnabada tha kaya chahi kayasu changkhiba yari maram aduna leingakna henna effective oiba policy kaya semduna laichat asibu thengnaba hotnaba mathou tari haina Athoubana aroibada thamlakli.
TKT News Service